Our web/cloud version offers multiple users support in near-real time. The web app offers an account page to manage your users. You can assign different privileges ( eg end user role , admin role, modeler role) to different users. The Admin role has privilege over all the feature including the creation of users and cancellation of the account, the modeler role has privilege over all the functionality except they can't add new users and cancel the account. The end user role is for your business users who want to browse and visualize data for their day to day decision.
On mobile app,  it's easy to collaborate, share and present your maps and blueprints with sharing features. You can:
Create and present customized views of enterprise data that are most relevant to your audience.
Interactive Dashboard visualization keeps tracks of all the information current and accurate so that everyone is informed. 
Share your documentation and maps in the cloud or using dropbox accessible from any web browsers and devices
Add users with different roles (admin, modeler, end users) to your cloud account and promote collaborations and give access to accurate, relevant and  up to date information
Share maps as a PDF document
Print your maps on a large poster
Use import/export feature to share data via MS Excel.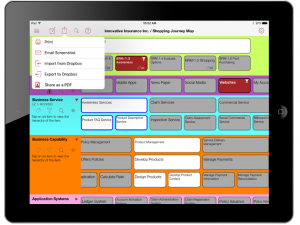 To learn more about how you can promote collaboration on iPad within a small team, follow this blog post 'Promote Collaboration' .
Want to learn more?
Watch this short video.