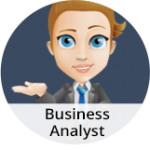 Successful Analysts need the big picture, because this is what defines business and system requirements for business analysis. They want to capture business and customer experience requirements aligned with the capabilities and to perform gap analysis from as-is to future-state.
The big picture is also used by analysts to communicate with diverse groups of people and to examine how various parts of the business system are interrelated. The visual analysis through maps help organizations to plan, engage and solve complex problems.
Functionally, business analysts can :
Understand and map the big picture of their enterprise
Map customer experience and interaction through the different touch points
Understand capability and resources connection
Capture business and experience requirements to support capability evolution
Understand service, capability and process connection
Compare Maps, Share , import/export data and Print
Back up and recover your data via integrated DropBoxTM content management tool.
Maintain multiple organization's maps

Exploring relationships between people, activities, systems, capabilities and information to identify risks, dependencies and change impacts.
Many specific stakeholders' viewpoints can be dynamically generated with the Evolver's filter option. Enterprise Evolver makes it easy to visualize and perform analysis and to capture and track requirements against business capabilities.
To download from the Apple Store , tap here. For an enterprise license, contact us using this link.