The ecosystem modeling features offers users to capture value exchanges and relationships between entities (people, business and things). An ecosystem model is an abstract representation of an enterprise, which is created to better understand the enterprise. Many successful companies have ecosystem-based business models. Digital transformation & innovations are turning organizations outward into the ecosystem of actors and their relationships. The ecosystem models are helping organization to plan for their future from improving effectiveness, to manage risks and break through to new innovations. The ecosystem map can also be helpful in orienting new employees to your enterprise and monitoring disruptive changes and opportunities. In the ecosystem, large numbers of loosely interconnected participants who rely on each other.
In Enterprise Evolver, you can capture all the actors that interact with your organization including their interactions and the value that they provide/receive to and from each other. The sample picture below provides a view of value exchanges and relationships between various actors. Each link represents a relationship and the type of value (money, information, goods and services, idea etc) that is being exchanged. Each value exchange or also called transactions can be tangible or intangible.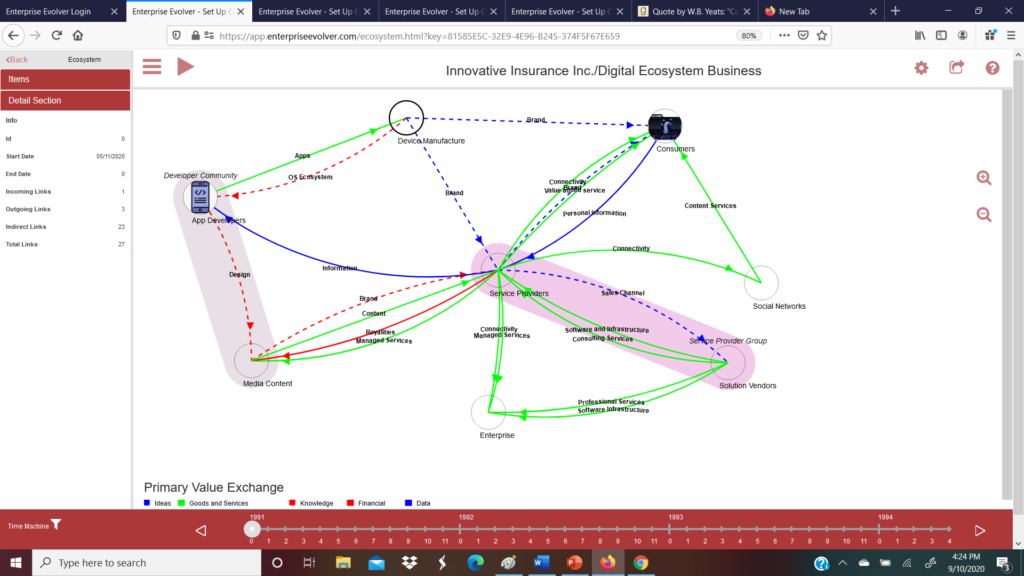 Features of the ecosystem Module
The key features of the ecosystem modules are:
You can capture multiple actors in your ecosystem at any given point in time
You can capture relationships between any ecosystem's actors at any given point in time
You can capture the role each actors play in the ecosystem
You can capture the type of value (eg data, finance, goods and services etc) being exchanged on each relationship
You can logically group actors providing similar kind of value
You can visualize the evolution of the ecosystem and more.
Watch this video to understand the capabilities of ecosystem module