In the latest release of Enterprise Evolver, many new enhanced features are added to optimize the application portfolio. An application supports specific business functions or business process.  To optimize and simplify application portfolio, you need to have following capabilities:
– An ability to capture application information (e.g, name, description, cost, production date, expiry date etc)
– An ability to classify applications by its domains or business capabilities
– An ability to associate ownership to applications (business units & responsible person) 
– An ability to analyze and score the application portfolio across many dimensions/metrics (eg. Application value, operational risk, costs, technical risks) 
– An ability to link applications to data, capability, technology. location and other objects
– An ability to generate charts showing application business and technical fitness
– An ability to maintain application architecture
– An ability to visualize application landscape complexity graphically 
– An ability to understand complex and core applications
– An ability to identify and remove redundant applications
– An ability to maintain application roadmap
Application Portfolio owners can use Enterprise Evolver to systematically assess, evaluate, and manage the health of their application portfolio. With simple assessment screen, you can either perform an individual assessment of an application or group of applications or an overall application portfolio assessments. Evolver allows an ability to merge multiple assessment data into one big picture to visualize the whole portfolio so that you can make wise decisions. Evolver offers complete visibility into your application portfolio which enables you to :
Identify duplicates 
optimize operation and maintenance cost
Minimize risks to business capabilities
Graphically visualize which applications to eliminate, which to migrate, where to invest and which to tolerate. 
Steps to follow are provided below:
Capture/import applications inventory, make sure you have a good classification for your application to support the analysis;  a good way to organize your applications are by business capabilities that they support. Make sure you also capture business units and a person owning and responsible for each application.  
From the Designer, select Application System category and then right click to view the context menu and then select "Assess Application" option. 

Click on Add New button to collect the assessment data. From the assessment screen, you can also configure various dimensions that you would like to use to analyze the application portfolio. Evolver offers many built-in dimensions that you can use to rate /score applications. From here you can select applications that you would like to include in the assessment. You may also create multiple assessments and merge them into one report. 

Scores each application by various dimensions and generate bubble quadrant chart to understand your portfolio.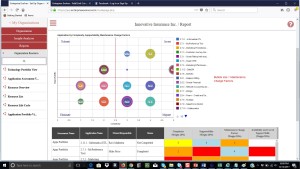 To learn more, click below to schedule an online demo!