Capability modeling has become a standard approach for developing business architecture to transform and evolve an enterprise. Business capability modeling provides a shared understanding of the relative value of all business activities the business must perform to achieve the desired outcome. It is important to understand that the business goals and vision define the ends whereas, business capabilities provide the means to achieve those ends.
Getting the business capabilities right is a process where business and IT work together to co create the interconnected set of capabilities. When defining business capabilities , enterprise and business architects should think in terms of tangible (eg people, equipment etc) and intangible resource ( eg service, , software , information, money, knowledge etc) that will be used to deliver the capabilities. Thinking in terms of resources put business capabilities in context. Enterprise/Business architects must prepare a list of all the resources and assign them to the appropriate capabilities. It is the resources where the costs are assigned not directly to the capabilities. Moreover, It's these capabilities that produce the desired outcomes not individual resources. Individual resources can produce certain output but not the business outcome. When resources work together then the capability is delivered and outcome is achieved.An illustration of the relationships between vision, goals, outcome, capabilities , customer jobs and resources are illustrated below.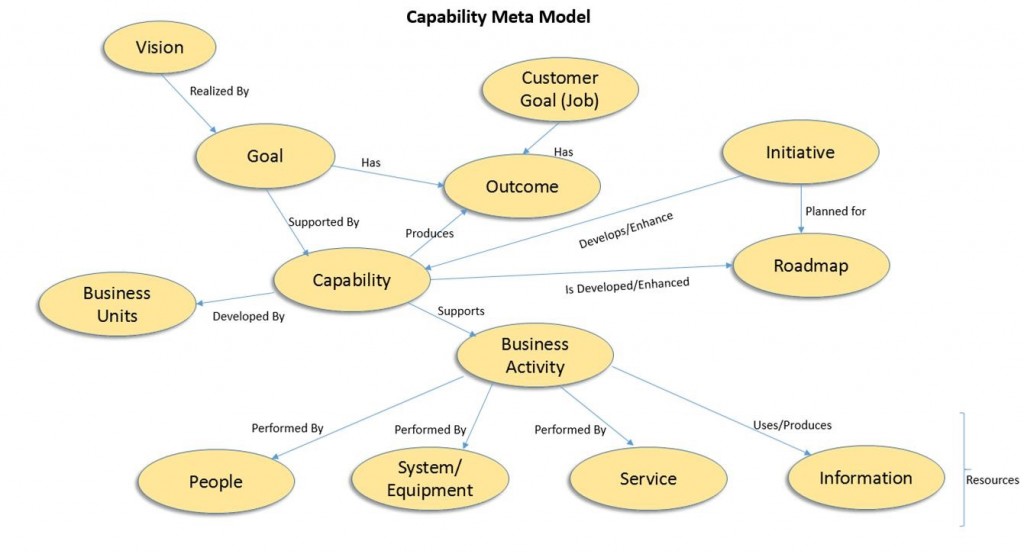 Architecting the business using the above approach emphasize on building the business instead of implementing projects or building applications. This approach provides the entire enterprise with a clear and consistent articulation of strategy delivery. The approach will keep the Architecture group engaged from strategic planning to execution by creating various capability maps at different business decision points.
With these business maps on hand, an EA can answers to many questions to their executives and business managers:
– How the vision is achieved through various business capabilities?
– What resources deliver what business capabilities ?
– What are core & important capabilities ?
– What business capabilities can be replicated in an adjacent market ?
– What customers jobs are delivered by which capabilities to achieve what outcomes and experience?
– What are the operating cost of business capabilities?
– What resources will be used to deliver an initiative or project?
– What initiatives impact what business capabilities ?
Additionally, in Enterprise Evolver, you can visualize the complex enterprise from the capability lens. Contact us to learn more about our methodology of architecting to deliver business outcomes.
Watch this brief video and build coherent enterprises with Enterprise Evolver.
Available on the Apple Store to download
Contact us for an enterprise multi user license.